About the Eyecare Center
OUR HISTORY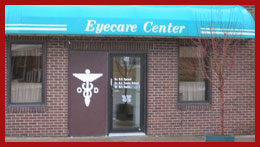 Since 1917, the Eyecare Center has been the leader and preferred provider of quality vision care products and personalized optometric services to our patients in Sheldon and the surrounding areas. Our experienced doctors and staff offer comprehensive vision examinations and specialize in the diagnosis and treatment of a wide array of eye diseases, conditions, and problems.
In our mission to provide the best eye care services possible, our doctors use only the most advanced, state-of-the-art diagnostic technology and eye care products available. We are committed to educating our patients and providing personalized eye care services to the people of Sheldon. At Drs. Radke and Hoogland, you will find eye care professionals who genuinely care about your health and are dedicated to providing exceptional personal service to everyone who walks through our door.
Schedule an appointment with Drs. Radke and Hoogland at our Sheldon optometrist office and give your vision the level of care and attention it deserves.
OUR MISSION
We, the Eyecare Center Staff, are committed to improving and maintaining the visual health of all patients we serve, providing comprehensive eyecare services to meet the needs of each patient in a personal way with superior quality and value.
We promise to thoroughly explain your eye health status and vision needs with the emphasis on preventative care, resulting in an enhanced quality of life. Our friendly staff is dedicated in providing this care in an atmosphere of compassion and respect.
Our goal is to remain on the forefront of eye care through continuing education, utilizing the latest state of the art instrumentation, technology, contact lens and eyewear products.
We will strive to exceed your expectations with a level of service and value that is without reservation, to ensure that you will return to recommend our practice to others.